If you do not have a church home we hope that you will consider becoming a part of our
church family. One of the best ways to get to know this community is by sharing in the variety of opportunities for learning and fellowship. We have provided this website to allow those unfamiliar with our family to learn more. Further, this website is intended to create better communication with our family. Faith is a warm and friendly place to see God at work and experience the message of Jesus Christ. We are a church dedicated to building a faith community. If there is anyway in which we can make you feel at home here, please do not hesitate to call or contact us via e-mail.
Advent at Faith United Methodist Church
Tis the season… But the season for what?  With so many ads, to do lists and events both wonderful and stressful, it is hard to keep a candle lit in our souls waiting for the Christ child, God's promise to us that he would be with us- Emanuel.  Our church will strive during advent to keep that candle of faith, hope and love alive in our holiday through worship, fellowship and mission.  Please know you are welcome to come join our family in this season. You were never alone, God was always with you, but we hope you find yourselves also with other souls striving to hold onto the real joy of the season.
Christmas Readings from Luke
Follow along in our blog below if you have missed some.
Luke Reading #8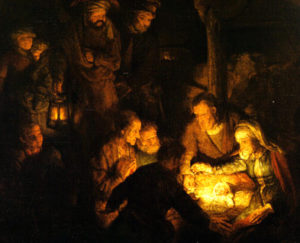 Background.  Now we reach revelation of Christmas night.  There is a stark contrast of ordinary and glorious here.  Angels and a heavenly choir- imagine what that would sound like!  The glory of the Christ child as well, but in a manger born as a humble poor baby.  And those shepherds, smelling of sheep, but the first humans called by God to be witnesses.  This is all very deliberate and the fodder of many wonderful sermons.  Don't let the familiarity of the story stop you from hearing and appreciating its lessons.  Again I really recommend you read it out loud to yourself.
Reading Luke 2:8-20
Focus Verse Luke 2:19 But Mary treasured all these words and pondered them in her heart.
This line has been the basis of a couple of great sermons I have cherished.  Mary hears the stories from the shepherds of what they were told by the angels.  We aren't told she is confident or wise or even happy.  We aren't told that she sees the plan and is comfortable with it.  Mary knows it all is important, and she treasures the words- stores them away- and she thinks about it all- pondering.  And moreover, she is pondering in her heart.  Of course, we ponder in our brains- but here it is more deep and significant to ponder in hearts.  Not just what do we think about it, but how do we feel about it? This can be a comfort for us who don't totally understand what it all means either.  As long as we keep treasuring the words and pondering them in our hearts, we are with God as Mary was.